Our Mission
and Values
Many people.
One powerful purpose.
USAA's mission is to facilitate the financial security of its members, associates and their families by providing a full range of highly competitive financial products and services. In so doing, we seek to be the provider of choice for the military community. We do this by upholding the highest standards and ensuring that our corporate business activities and individual employee conduct reflect good judgment and common sense, and are consistent with our core values of:
Service, Loyalty, Honesty and Integrity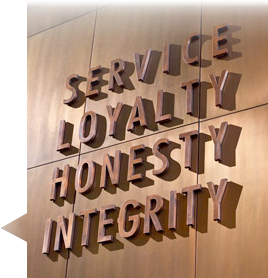 Learn more about USAA's core values by reading our Code of Business Ethics and Conduct.
Search Jobs
Awards
Align your career with a recognized leader.
Forbes: In the list of 2019 Best Employers for New Graduates

Human Rights Campaign--100% Corporate Equality "Best Places to Work" for four years straight

Military Friendly® Top 10 Employer: Gold Level

Military Friendly® Top 10 Company: Gold Level

Military Friendly® Spouse Employer 2020

Military Times "Best Employers for Vets" 2020

WayUp Top 100 Internship Programs for 2019

Certified Great Place To Work 2020
Culture at USAA
We're passionate about what we do and how we do it.
At USAA, you'll find a welcoming environment where everyone has a true passion for our mission. Our employees are immersed in a culture that profoundly embraces the service and sacrifices made by those we serve – the U.S. military and their families. Every member of our team adopts one set of behaviors that reinforce and enhance our unique culture.
Diversity & Inclusion
The military community is one of the nation's most diverse, and maintaining a workforce that is reflective of our membership is vital to our mission. USAA's diversity and inclusion credo is "Many Faces. One Mission." This philosophy describes who we are, a place where all employees count and contribute to the overall success of USAA. We seek to attract, develop and retain diverse talent at all levels and cast a wide net to source the very best talent.
Corporate Responsibility
As a business, USAA exists to serve the military community and facilitate the financial security of our members. Our corporate responsibility programs pursue a common purpose. Through charitable contributions and volunteerism, we aspire to lead and inspire actions that improve the quality of living in the military community and in the local communities where our employees live and work.
Search Jobs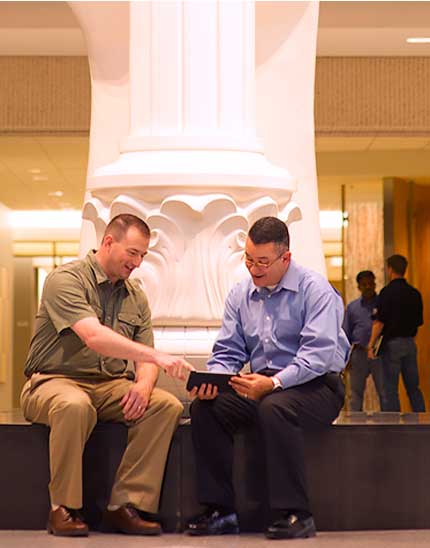 Benefits & Learning
Be part of an organization that believes in you.
USAA believes in taking care of the people who take care of our members. Our main benefits package, which may vary by location, includes the following:
Medical and dental
Retirement savings plan
Short and long-term disability
Paid time off and flex hours
Company holidays
Service awards and recognition
Balance & Wellness
Our work-life benefits help maximize your time and simplify your life. Here's a sample of our balance & wellness programs, which may vary by location:
Physical fitness and personal trainer
Work-life referral specialist
Recreation programs and facilities
Parental Benefits
College admissions assistance
Healthy Points
Education
To equip our employees to provide the outstanding member service critical to delivering on USAA's mission, we foster a culture of learning and focus on ongoing development:
Orientation and initial customized training
Business seminars, speakers and workshops
Self-study, classroom and distance learning options
Tuition assistance for certifications and degrees
License prep, exams and continuing education
Career development planning
Leadership development programs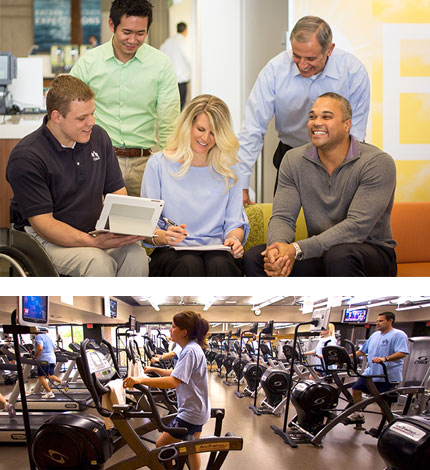 Community
We aspire to lead and inspire actions that improve lives in our military and local communities.
USAA is committed to practicing corporate philanthropy that is targeted, research-driven and impact-focused. Our employees and retirees are dedicated to giving back in ways that support military family resiliency nationwide and basic needs for families in the communities where we live and work.
Volunteerism
Our employees are passionate about helping others. In 2015 and 2016, USAA employees, along with retirees and their families, gave over 855,000 hours of volunteer time to support charitable causes. To support volunteerism, each employee receives up to two days of paid time per year to volunteer for nonprofit organizations of their choice.
Charitable Contributions
USAA employees have multiple options for charitable giving through the annual "USAA Serves" giving campaign, Bowlathon and Season of Sharing holiday program. In 2016, USAA employees and retirees contributed $10.6 million to support nonprofit organizations.
Financial Readiness for Military Families
Building Consumer Education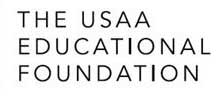 The USAA Educational Foundation, a nonprofit operating foundation, helps military personnel and their families make sound financial decisions and provides free resources, including Command Your CashTM financial readiness presentations used at military installations and ROTC detachments.
Search Jobs
The USAA Educational Foundation (the "Foundation") is a nonprofit organization sponsored by USAA. The purpose of the Foundation is to lead and inspire actions that improve financial readiness in the military and local community. Its resources are available online and free of charge. The Foundation does not endorse or promote any commercial supplier, product or service.