Our members' needs are as diverse as the challenges they've tackled. And when it comes to banking, we do things a little differently. For us, that means building a team of broad skill sets, across every area of the industry. As you explore our open roles, you'll discover a wide variety of job opportunities where you can apply your experience and expertise– and help us go beyond for those who serve.
Build financial futures for USAA members.
Own your career growth with a trusting, supportive community and a responsive team. Whatever your career experience, you'll learn how each segment of our business operates by collaborating with software, digital, analytical, and financial experts. When you join us, you do more than drive your professional journey forward. You also open the door towards stronger financial futures for our members.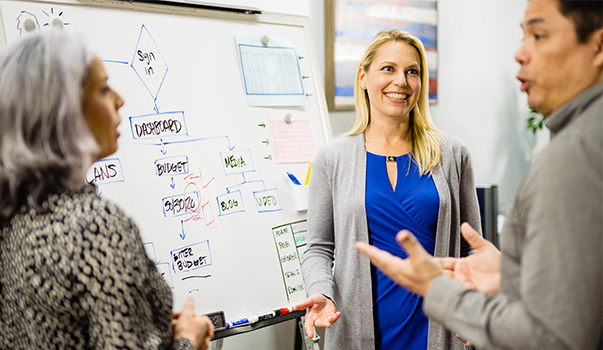 What's it like on our Banking team?
Wherever our members need us, we can help. As part of our Banking team, you'll support members with their financial needs including mortgages, consumer lending products, credit cards, and more. And to help you accomplish your best work, we provide the flexibility you need to help balance what matters most to you.
Some of the roles on our Banking teams.
Business Risk and
Controls

Influences and develops innovative solutions to mitigate risk and prevent risk exposures within the first line of defense.

Bank Data / Analytics

Develops scalable solutions for large scale data analysis and leverages advanced data-driven problem-solving techniques.

Bank Credit Risk

Monitors credit risk trends with the support of Data Analytics professionals and conducts independent portfolio assessments of credit risk.

Product Managers
(Credit Card, Real Estate, Consumer Lending, Retail Banking)

Serves as the direct representative with one or more delivery teams, developing and championing innovative products for our members.

Bank IT Professionals

Supports business capabilities of a given business domain while identifying new opportunities for IT solutions.

Program / Project
Manager

Oversees the discovery, delivery, and performance of innovative products and their evolution for USAA and its members.

Bank Business Process
Consultants

Leads planning for processes including problem definition, evaluation of requirements, design, testing, and implementation.
Find out more about who we are
As a Lead Change Partner supporting the Bank, I have the opportunity to work on efforts that help future proof USAA and contribute directly to improving the member and employee experience and drive greater value. I am grateful to be able to serve our military community and ensuring we are their provider of choice.

Heather A.

Change Partner Lead

As a Bank Business Process Consultant, I have many opportunities to improve business processes and contribute in a meaningful way to moving the Bank forward into the future. As a military spouse, I am personally inspired by our mission and serving the military community. I appreciate our culture of doing the right thing that emphasizes transparency and integrity. Deciding to come to USAA has been the best decision I have made in my career.

Jenni F.

Bank Portfolio & Agile