Employees explain importance of Brightside Accessibility Lab
"The accessibility for members has been important for many years, and I'm very proud of where we're at in that journey. But I'm also proud of where we're going now with employees, we are really making progress," says Patrick. "We're getting so advanced in accessibility and its adoption into the culture of USAA. We're understanding it and embracing it."
From a small corner to a fully equipped, dedicated space – USAA's Brightside Accessibility Lab represents more than technology.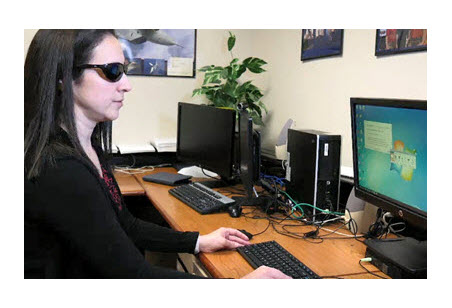 I​n 2013, the Brightside Accessibility Lab was established in the San Antonio office. As blind employees, Patrick S., software engineer lead, and Marti H., IT systems analyst, have the equipment they need to do their work, such as screen readers and braille embossers. As part of their roles in IT, they test digital content in the lab and ensure it's accessible for members and employees with a variety of disabilities – from no or low vision, color blindness, deaf or hard of hearing to motor-skill challenges.
"I think the lab represents USAA's commitment to inclusion, accessibility and different perspectives to ensure everyone can participate," says Marti. "We ensure a good experience for our members and employees who just happen to do things a little bit differently."
Marti and Patrick use the lab to help answer questions other employees have about software to help with color blindness or low vision, among other things.
"We've had different clients come into the lab and run tests on accessibility tools within the members service representative workstations," says Marti. "We do a lot of testing with new software, and we're able to show them all the different features that software has to offer."
At the onset of the pandemic, when employees moved to work from home, Marti and Patrick didn't have time to prepare and evaluate which test equipment they would need. Thankfully, they were able to get much of that equipment shipped to them.
"We worked with what we had, and we did fine for a couple of months until it hit us that we'd be home a while. As testers, we were a little spoiled with computers, test boxes and other equipment," says Patrick. "Now, we have test boxes and our braille displays at home. Plus, Marti and I already have a lot of equipment in our homes because that's how we live our lives."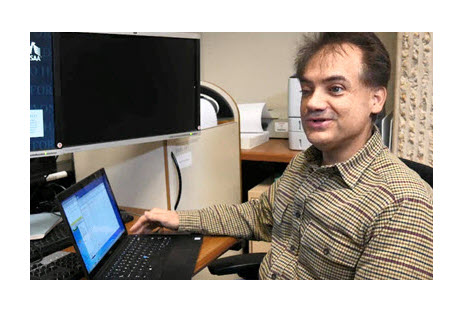 Coincidentally, Marti and Patrick had already done a lot of preparation to make lab capabilities more virtual – something they made a priority to better collaborate with our remote offices. Patrick says they've been able to continue working virtually without any major issues.
"I'm not aware of anything we haven't been able to do for customers since we've been home," says Patrick. "We do things maybe a little bit different, but there's nothing we haven't been able to do."
Patrick says he's proud of the progress USAA has made in the accessibility space.
"The accessibility for members has been important for many years, and I'm very proud of where we're at in that journey. But I'm also proud of where we're going now with employees, we are really making progress," says Patrick. "We're getting so advanced in accessibility and its adoption into the culture of USAA. We're understanding it and embracing it."
274024 - 0920