"We know what it means to serve" is more than a slogan. USAA respects and honors the men and women in our nation's military and their families who support them. That's why we are committed to:
Achieving and sustaining a workforce made up of 25% veterans and military spouses or domestic partners.

Offering military and military spouses a first look from our recruiters.

Providing programs to attract, develop and retain military talent.
USAA values the unique skills and experience military servicemembers and veterans bring to our workforce. Use our military skills translator tool to identify career opportunities that might be a good fit for you. If you are interested in changing career fields, use our personality assessment tool to identify careers you may be most passionate about and interested in pursuing.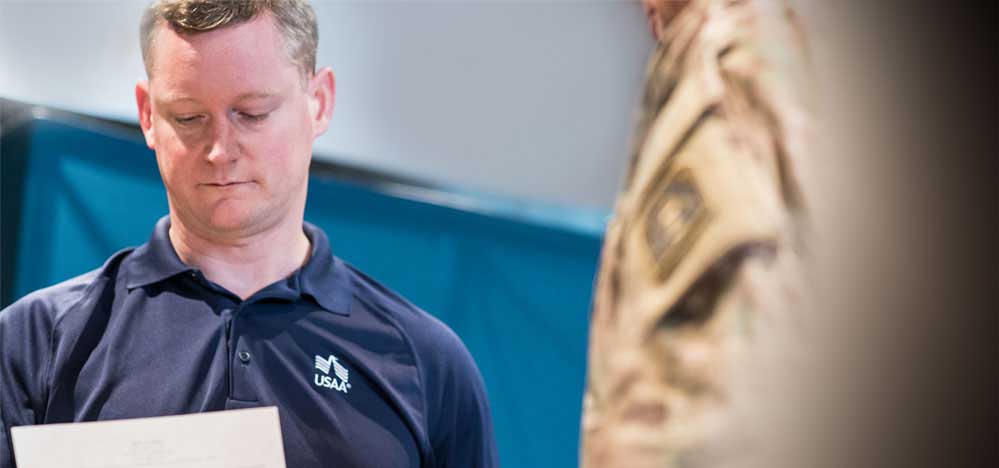 Assistance Programs and Military Outreach
Our desire to assist the military community runs deep – and we've implemented many programs to achieve our goals:
Employer Support of the Guard & Reserve (ESGR)

We fully recognize, honor, and comply with the Uniformed Services Employment and Reemployment Rights Act.

We will provide our leaders with the tools they need to effectively manage employees who serve in the Guard and Reserve. We appreciate the values, leadership, and unique skills Servicemembers bring to the workforce and encourage opportunities to hire Guardsmen, Reservists, and Veterans. We continually recognize and support our country's Servicemembers and their families, in peace, in crises, and in war.

Combat to Claims

We hire recently separated veterans and military spouses or domestic partners to participate in a two-month training program to become Auto Claims Adjusters.

Veteran Transition Leadership Development (VetsLeaD)

This 12-month program develops and retains newly hired, recently separated veteran employees hired into various professional and staff level roles at USAA. Participation in VetsLeaD helps close the business acumen gap many veterans have when leaving military service.

Enterprise Veteran Sponsor Program

Experienced veteran employees sponsor and mentor recently hired veterans by sharing experiences and advice about making the transition.

VETNET

This employee resource group leverages the military and USAA experience of our veteran and military spouse employees to help create enterprise-wide awareness that fosters an appreciation, understanding, respect, and advocacy for the military culture and the unique membership we serve.
Our Alliances
Institute for Veterans and Military Families (IVMF)

Military Spouse Corporate Career Network/Corporate America Supports You (MSCCN/CASY)

Military Spouse Employee Partnership (MSEP)

U.S. Chamber of Commerce's Hiring Our Heroes

Disney Veterans Institute

American Corporate Partners

Military Spouse Juris Doctorate Network (MSJDN)

Veterati

Hire Heroes USA
These are organizations USAA collaborates with to raise awareness and appreciation for the value and skills veterans and military spouses bring to the workplace. Appearance of an organization here does not constitute or imply USAA endorsement of or investment in that organization.
Our Awards
Military-Friendly Employer, G.I. Jobs

Best for Vets Employer, Military Times

Military Spouse-Friendly Employer, Military Spouse

Best Company for Veterans, Monster/Military.com

Best of the Best, U.S. Veterans Magazine

Most Valuable Employer, RecruitMilitary.com
The trademarks, logos and names of other companies, products and services are the property of their respective owners.