At USAA, our customers are "members", and our Member Service Representatives are dedicated to serving them. From banking to insurance, every call you make will bring them closer to the solutions they're looking for. For you, that means living out our values and mission of serving the military community. And you'll do it by offering the security and satisfaction our members are counting on. Join us inside one of our customer service and sales centers – in Phoenix, Colorado Springs, Tampa or San Antonio.
Building your future at USAA
Everyone on our team gets a shot at carving out a pretty impressive career for themselves. Whether it's your first gig, or just a new start, we've got your back. That means continued trainings and chances to learn, so you become the seasoned expert your team looks to. And with each new deal comes bigger and bigger opportunities - plus exciting ways to discover how you can make the most of your skills.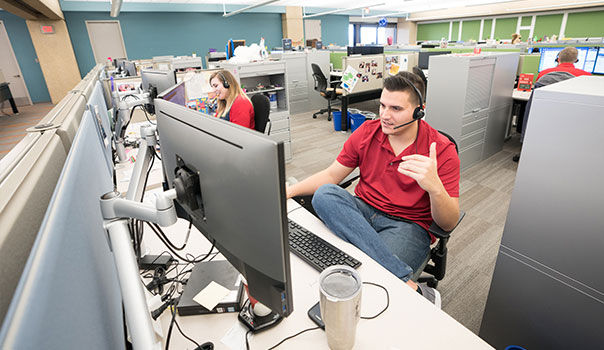 What's it like on our Customer Service team?
Get ready for a role that's as rewarding as it is fast-paced. We're all here for the same reason: to help our members when they need it most. And when one of us succeeds, we all do.
Find out more about who we are
As a Marine Corps veteran, I know it's no meager thing to be able to honestly say "I'm proud of what I do." At USAA, I am proud of the work that I do, the membership I work for and the team that I work with. From my manager on up to my CEO, I'm routinely impressed by my leadership and their commitment to our well-being and development, all in the pursuit of being the best at what we do: Serving those who served.

William H

Customer Service

The world-class benefits package enables employees to focus on their careers regardless of what life brings to us. I am grateful to work for a company that has supported me through deployments, cross country moves, and natural disasters. The support and communication provided illustrates how much we are valued and empowers us to fulfill the mission and serve our members.

Mary M

Customer Service
Life at USAA