We stress the details because we know how important they are to our mission of serving the military community. That's why our Chief Design Office (CDO) is at the core of everything we do. Made up of more than 200 talented designers, we're focused on creating the experiences that help our more than 13 million members. From supporting 160 products to protecting the financial security of our members, we're looking for designers who are ready to be part of an innovative team.
Building your future at USAA
When you bring your career to USAA you'll see what we're made of: world-class designers dedicated to making a difference for our members and for each other. From peer mentorship to training with upper management, you'll find support and opportunities to grow within your career.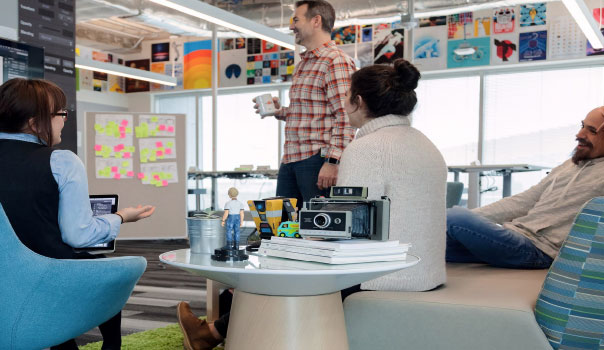 What's it like on our Design team?
Being different is what brings us together. We might not have the same training or experiences, but whatever path we took to get here helps us do the great work we're known for. Collaboration is key and unique perspectives make all the difference.
Take a look at the roles and responsibilities that make up our CDO.
Design Research

Find out why people do what they do. That means reaching out to our members and getting to know their drives and emotions.

Design

Whether your background is in interactive, visual, experience or another design discipline, you'll help create awesome experiences for members.

Service Designer

You excel at seeing the unseen. Lend your expert knowledge to mapping systems and crafting complex journeys and blueprints.

Design Producer

You focus on the big picture and bring a confidence that helps get things done. This is your chance lead a team to success, again and again.
Find out more about who we are
More than at any other place in my career, at USAA I actually see the positive impact of my work in the lives of real people. I benefit from an atmosphere of coworkers who care deeply, and am continually inspired to grow and challenge myself through the community that's been built in the Chief Design Office (CDO).

Dylan M

Design

Working within such a mission-driven culture makes my projects feel meaningful. Every day, I feel the commitment among my peers – both designers and non-designers – to make our products and services more human-centered. And the opportunities to create innovative digital solutions for those who have served gives me pride that I am contributing to something larger than myself!

Manny F

Design
Life at USAA