To fulfill our mission, we need a team that reflects and understands the diverse military community. But our commitment to inclusion doesn't stop at hiring professionals with unique perspectives and backgrounds. We work hard on creating an environment that supports and thrives on differing beliefs. Because we know we're only at our strongest when all voices are heard.
Supporting initiatives, nonprofits and students
We're putting our time and effort into supporting the local, regional and national organizations that make all the difference when it comes to representation. These groups include:
Grace Hopper
National Black MBA Association (NBMBAA)
National Society of Black Engineers (NSBE)
Reaching Out MBA (ROMBA)
Society of Hispanic Professional Engineers (SHPE)
Southwestern Athletic Conference (SWAC)
MBA Veterans
Find out what our people are saying about our diverse teams.
Learn more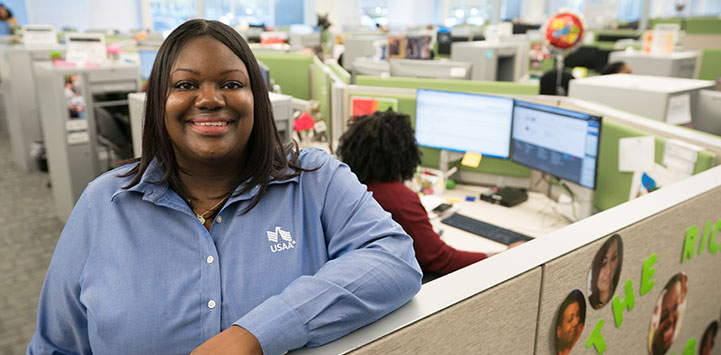 How our efforts measure up
We work hard to build a team that reflects our members.
Right now,
47%

of our employees identify as a person of color

and
53%

of our team members identify as a woman

We've also pledged
$50 million

to advance racial equality in the military community

Our goal? To close gaps in education, employment and income for communities of color andlow-income military communities.
Meet our Diversity Business Groups
Diversity Business Groups (DBGs) give employees the chance to connect around shared backgrounds, identities and interests.
Adelante comes from the Spanish word for "moving ahead." That's the goal of this DBG, which seeks to inspire and develop USAA's Hispanic and Latinx employees.

Aspire is helping women in technology – and the next generation of girls studying STEM – to connect, grow and advance in their careers.

Bold is the place for USAA's LGBTQIA employees and allies to push for the awareness that can impact our business strategy and culture.

Borrowed from the ancient Greek word for "natural capability," DUNAMIS is working hard to ensure full engagement for USAA employees of all abilities.

Elevate supports the gender-diverse partnerships that lead to more effective teams. Through conversation and action, we can all be agents of change.

Impact is supporting emerging professionals across our company as we continue to build a collaborative and effective intergenerational team.

Mosaic empowers USAA's employees of Asian and Pacific Islander Heritage. We're bringing together a variety of backgrounds to show the strength of our differences – just like a mosaic.

Peak has a vision of maximizing the potential of our African American employees and showing just how powerful diversity is to our mission.
Our work gets rewarded
We're proud to have made a welcoming, inclusive workplace. What's even better is getting recognized for our hard work.
Find out more about who we are
Life at USAA
Jobs for you
You have not viewed any jobs...yet
Please browse jobs on this site.
Then, you'll be able to see your recently viewed jobs here.