Employee shares the significant contribution of service dogs
"While it is cool that I get to bring my best friend with me everywhere, she isn't just a dog," explains Charis. "She is a life-saving medical professional who just happens to be cute, furry and have four paws."
Many of us have spent the last several months working from home, with sweatpants replacing slacks and slippers in place of shoes. As we begin to re-enter life among others, it's important to consider how others are making that adjustment – some with four paws and a tail.
When Scully puts on her vest in the morning, she transforms from a typical dog into a medical professional.
"It's like she's putting on her power suit," says Charis C., software engineer and Scully's handler. "With her vest off, she's like, "Pet me! Love me!" But when she gets her vest on, she's like, 'I am a professional. Don't talk to me, I'm working.'"
For the last few months, however, Scully has been working from home with Charis. Like the rest of us, Scully will have to readjust to interacting with the public world.
"She's a little bit rusty," explains Charis. "She hasn't been in public for a while. It might be distracting to be around people excited to see a dog – or all of those smells she's missed."
Charis got Scully, a three-year-old Moyen poodle, nearly two-and-a-half years ago. Scully is a medical alert and response service dog. She's able to alert to cortisol levels, blood pressure and heart rate. She also assists Charis with certain physical tasks, such as opening doors, retrieving dropped objects and even pushing elevator buttons.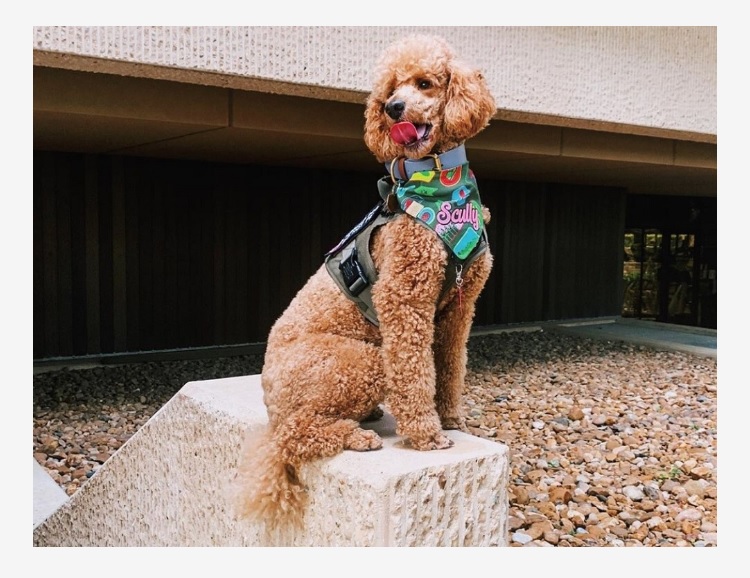 "I have severe spinal damage, so there are times when I can't lift my arm," says Charis. "When that happens, Scully becomes my right arm."
Scully is not only able to assist with physical tasks she is also trained to address psychiatric needs. Scully can detect and interrupt panic and anxiety attacks and run interference when necessary.
According to the Americans with Disabilities Act, service dogs are considered medical equipment, like a wheelchair or oxygen tank, and are equally as crucial to their handlers.
"While it is cool that I get to bring my best friend with me everywhere, she isn't just a dog," explains Charis. "She is a life-saving medical professional who just happens to be cute, furry and have four paws."
Charis says that while it may be tempting to reach out and pet a service dog, it's vital to remember that they are working – especially now while they adjust to going back out into the world.
"The three rules are: no touch, no talk, no eye contact," she explains. "It's not that we don't want you to see our dogs, but staring is a form of communication with dogs. A quick glance is fine, but you never want to pull the dog out of its job."
As far as asking to pet a service dog, Charis says to consider what is going on with the handler.
"It's really important to let service dogs do their jobs," says Charis. "Just having that respect and understanding is really valuable to us."
The most important thing to remember, Charis says, is that service dogs have very crucial jobs.
"Scully is here to mitigate disabilities," she says. "Her purpose in life is to help me work and be the best that I can be."
274960 - 1120