A dream realized: three degrees and a three decade career
"My dad's dream for me was to get my bachelor's degree," says Mandy. "It was because of the benefits provided at USAA that I was able to keep that promise."
Mandy R. began working at USAA nearly 30 years ago. During that time, she has earned three degrees and climbed the ranks, achieving her parents' dreams for her.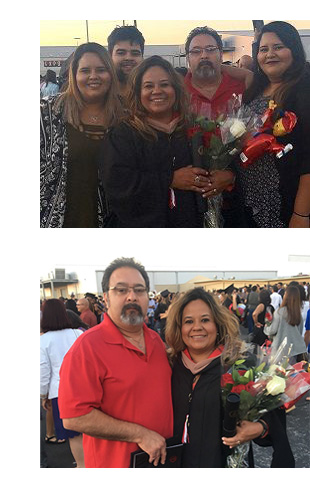 Mandy's mother migrated from Mexico and her father came from San Ygnacio, a small town in the lower Rio Grande Valley. They met in San Antonio, married and joined their two families. When the two families joined, Mandy was born and became the youngest of 12 children.
"Considering my mom only had a third-grade education and my dad a 10th-grade education, my parents did very well to provide for all of us because they held down stable jobs and worked very hard," says Mandy, a senior scrum master.
Her father worked for the City of San Antonio for more than 25 years and her mother was a seamstress.
As a result of their hard work, her parents sent all their children to good schools. Some of her brothers joined the military and each sibling became successful, independent adults. However, of all her siblings, Mandy was the only one who pursued higher education.
Thanks to the USAA Education Benefit, she obtained not only her associate and bachelor's degrees but her Master of Business Administration, as well.
"My dad's dream for me was to get my bachelor's degree," says Mandy. "He passed away, so he wasn't able to see it, but that didn't matter because I still knew that was a promise I had to fulfill. It was because of the benefits provided at USAA that I was able to keep that promise."
Mandy has since put her twin daughters through college, and her son is currently working on his degree.
"I don't think I would have been able to do any of that had it not been for the benefits that are provided here," says Mandy. "My mom raised me for 20 years, but USAA has now raised me for almost 30."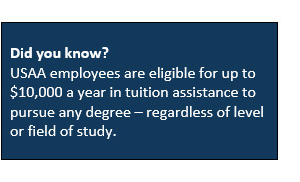 Mandy started her career at USAA as a member service representative, working on the front line for 15 years before taking on new roles. She served as a project manager in information technology for a few years before landing her current role. Mandy says she owes her success to the perseverance and work ethic instilled by her parents.
"My parents never gave up on the American dream," she says. "As a result, I have learned to never give up or settle, and I always strive for something better."
Hispanic Heritage Month is Sept. 15-Oct. 15. In honor of Hispanic Heritage Month, we take a moment to highlight an employee whose background and experience helps to uphold USAA's commitment to embrace diversity and be purposefully inclusive.
272938 - 0820