A place for every kind of love – and every kind of family
Growing up, Dani R. was scared that she might never have the life she had envisioned for herself.

"When I accepted who I was and came out to my friends and family, I felt that relief of being my true self," said Dani, a business process consultant with USAA's Property & Casualty business. "I was worried, too, because I just wanted the life everyone else had."

The thought of being unable to get married or have kids scared her. Dani continued on her journey of self-acceptance and knew she had to pursue the life she wanted. Nearly six years ago, when she met her wife, this all became easier for her.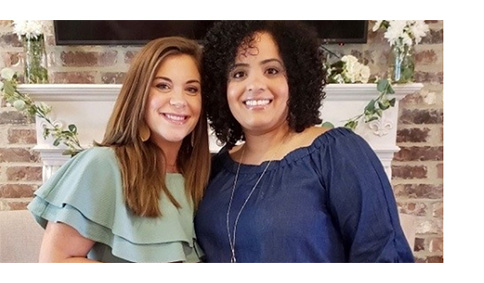 "The first day we met was the day we fell in love," said Dani. "I wasn't comfortable living our life together in secret, though. I like sharing my life, hearing about other people's lives and creating those connections with people."

Dani and her wife got married four years ago, not long after same-sex marriage became legal in the U.S. Shortly after walking the aisle, they began exploring their options to start a family.

Dani gave birth to their baby girl in April.
USAA's parental benefits, which include 100% pay for up to 12 weeks, gave Dani the time she needed to bond with their new baby. Dani and other new parents can the benefits at one time or ask to use benefits intermittently based on what works best for their families.

In addition to her personal life, Dani also has learned how to live her truth in her professional world. Although, initially, it can be uncomfortable to address, she says it's better in the end.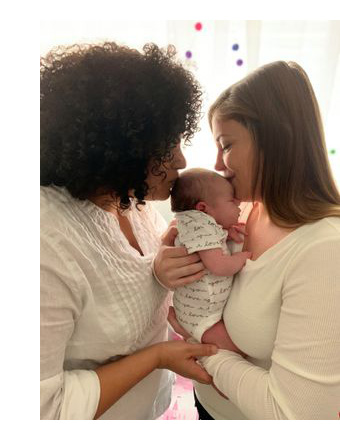 "During new employee orientation, a common question was: 'what does your husband do?' On the first day, I didn't want to correct anyone because I didn't want them to feel embarrassed, so I let the conversation continue, but I felt like I was living a lie," recalls Dani. "The next day, someone new asked me the same question, and this time I told them I have a wife, and they apologized. But I assured them it was ok – I just felt so much better having said it."

Being able to be her true self at work is something she doesn't take for granted. BOLD, USAA's LGBTQI/Ally diversity business group, works year-round to make sure employees like Dani feel welcome from Day One.

"USAA has so much support for me and my wife – it's still a big obstacle for people in the gay community to live a completely open life," says Dani. "I feel so lucky to work for a company that not only respects me as an employee but as a person, especially with the parental leave policy. I've had nothing but supportive managers and leaders."

Although it's not always easy to be up front about her situation, and people have questions surrounding her marriage and pregnancy, Dani says she's happy to share her experience to educate and inspire others to accept themselves.

"I've assumed incorrect things about people – we all have – but without doing that I wouldn't have learned," says Dani. "I knew I was never going to be afforded the same opportunities as my friends if I weren't true to myself – I am who I am, and I knew that was never going to change."
272935 - 0820