With more than 30,000 employees, USAA is an exciting place to be. Stable and growing, we are an organization with opportunities in almost every discipline you can imagine. We invite you to search all of our jobs or explore some of our more popular career areas listed here.
Customer Service
& Sales Careers
Build a bright career in our
core business.

USAA operates four customer service and sales centers – in Phoenix, Arizona; Colorado Springs, Colorado; Tampa, Florida; and San Antonio, Texas. We focus on two main areas: banking and insurance. In banking, you might start as a credit card customer service associate and later explore areas such as mortgage and consumer lending. In insurance, you'll handle questions on our property and auto insurance lines, as well as apply contract knowledge. Whether you're helping a service member or a family member, every call you handle makes a difference and provides a real sense of satisfaction.
This is one of the largest business areas at USAA, with many ways to advance. You can learn additional products, add new responsibilities or move from insurance to property to specialty products, for example. Eventually, you may be able to move into other roles and responsibilities that interest you. What sets our roles apart?
A focus on the member's needs, in every conversation

Manageable sales goals, with no time limit per call

Onboarding, plus 10-12 weeks of product and technical training

Ongoing training and culture programs throughout your career
Insurance Careers
Do more than make a living,
make a difference.

Auto insurance is our founding product line – and property and casualty claims roles are a great entrance point into USAA. With more than 5,500 employees in this area of operations, we have customer service centers in five locations: San Antonio, Texas; Phoenix, Arizona; Tampa, Florida; Colorado Springs, Colorado; and Chesapeake, Virginia.
You will work on the phone as a claims adjuster, developing your skills, investigating claims, researching coverage and negotiating and settling claims. Serving our military members, associates and their families is highly satisfying, and building long-lasting relationships with every touch is the ultimate goal. We offer:
An extensive 14-week
training program

Continuous learning throughout
the life of your career

Mentoring, tuition reimbursement and assistance with obtaining designations

The opportunity to build a career in claims or other areas of USAA
Auto & Property Claims Career Path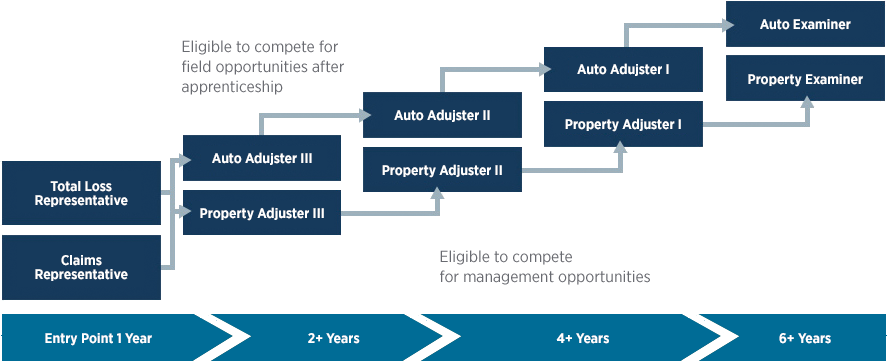 *Career progression may vary based on skills and business needs.
Information
Technology Careers
Discover how your skills can
serve our members.

Providing financial services to millions of military members and their families requires innovative thinking at every level. That's why we have over 3,400 USAA IT Department employees who advance technology every day to continually improve peoples' lives. Join USAA for a career in Information Technology, and you'll be part of an active, collaborative team named a FORTUNE® 100 Best Companies to Work For and one of Computerworld's 100 Best Places to Work in IT. The industry benchmarks against us and we're backed by the stability of an organization that has been in business since 1922.
Innovation Rules
Submit ideas to our Innovation Lab and drive the next wave of solutions

Participate in coding competitions to stay sharp and have fun

Interact with internal customers, suppliers and vendors from all over the world

Explore waterfall and agile methodologies, user-facing and infrastructure projects and more

Help us lead the way in areas like biometrics, check verification and web apps for claims

Thrive in modern offices and flexible arrangements for the ideal work/life balance
Design Careers
Join our world-class design team.

Advances in technology and members' expectations have changed and driven the way we do business – and we need top designers to help us forge digital breakthroughs. Our designers have created many of the innovative products that we've brought to the marketplace, all in our effort to provide unparalleled customer service. And we're not finished yet. Your love of design and your creativity are important as we begin the next phase of our journey. Help us continue to develop new technologies to serve our members:
Play a vital part in our efforts to simplify, expand and refine our experiences

Design for every aspect of UX, including web, mobile, wearables and IA

Work with top-of-the-line usability experts, qualitative research analysts, writers and publishers